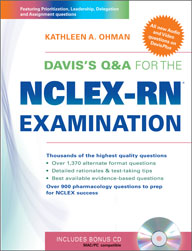 ISBN-13: 978-0-8036-2187-9
ISBN-10: 0-8036-2187-6
896 pp. Soft cover. ©2010
Available now. $49.95
View this book
and related print
resources at
fadavis.com
Davis's Q&A for the NCLEX-RN® Examination
By Kathleen A. Ohman, EdD, MS, CCRN, RN, College of St. Benedict/St. John's University, St. Joseph, Minnesota

Resource List
New Audio and Graphic Alternate-Item Format Questions
Graphic and Audio items are new - format questions that appear on the NCLEX-RN examination effective April 2010. The book includes an example and background information on graphic and audio items found in Box 2-11 and 2-12 respectively.
Student test results of the Graphic and Audio exams can be e-mailed to your instructor.
Audio Questions
For faithful reproduction of the ausculatory findings as heard through your acoustic stethoscope, you should use a good-quality set of headphones. When taking the NCLEX exam you will be required to use head phones when answering the Audio questions. Using head phones will help to simulate your upcoming testing experience.
Graphic Questions
Resource List